Policy Development Framework
We use a Policy Development Framework when we develop new policies.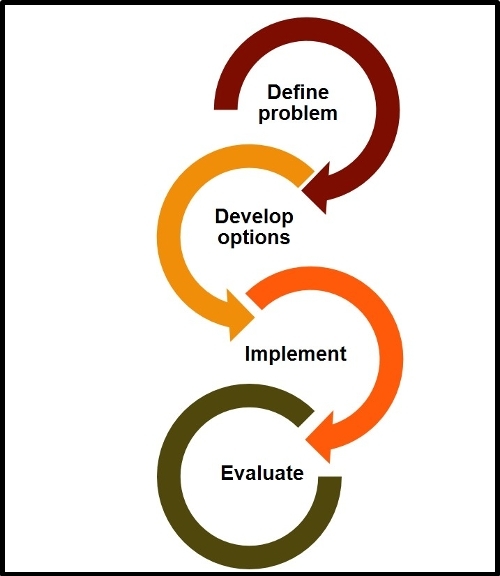 Throughout the Policy Development Framework, there is an emphasis on engaging with our stakeholders.
---
Why do we think it is important to engage with stakeholders?
We think engagement with people interested in or affected by our policies is vitally important. The Legal Services Act 2007 (LSA) requires us to protect and promote both the public interest and the interests of consumers. The LSA also requires us to have regard to the principles that regulation should be transparent, accountable, proportionate, consistent, and targeted only at cases where action is needed. These principles require us to talk to others and understand what is going on around us. Only by doing so can we obtain the information and input that we need to target our regulation where it is really needed.
Who are our stakeholders?
Our groupings of stakeholders are:
organisations that we must work with to meet our statutory obligations eg the Ministry of Justice, Her Majesty's Courts and Tribunals Service, the Legal Services Board, the Legal Ombudsman and the Bar Council;
organisations that we must work with on an operational level eg education providers and the higher and professional education community;
the public, especially those receiving or seeking access to legal services, litigants in person, witnesses, victims and other people involved in proceedings which involve barristers;
groups that represent legal consumers eg Victim Support and Citizens' Advice;
organisations with powerful voices (in relation to either the public or the Bar) eg politicians, government, academics, legal commentators, news organisations and the judiciary;
organisations that regulate other parts of the legal profession eg the Solicitors Regulation Authority, CILEx Regulation and others;
organisations that can influence the Bar and so aid the implementation of our policies eg Circuit Leaders, Bar Council leaders, the Inns of Court; and
The Bar.
When will we engage?
We seek to engage on a regular basis with as many groups as possible. We want to have established relationships with organisations so that raising issues and discussing matters is done within an ongoing relationship, while also being open to new stakeholders.
We always publicise proposed changes to our policy and rules so that everyone can see what we are doing and have an opportunity to contribute to our policy development processes.
---
How do we finalise policy decisions?
After we have engaged with, and consulted with, stakeholders on policy proposals, we make recommendations to our Board. The Board will consider the recommendations in light of our policy objectives and any stakeholder views, and then make the final decision.
If the decision involves making changes to the rules in the BSB Handbook or other important aspects of our regulatory arrangements, we need to apply to our oversight regulator, the Legal Services Board (LSB), for approval. More information about the LSB's decision-making processes is available on their website.